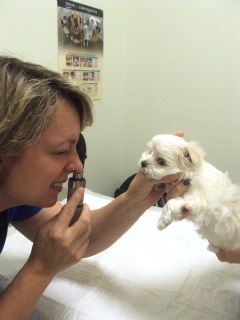 About Us

We are centrally located in the Woodland Commons Shopping Plaza just east of I-95, serving the communities of Palm Coast, Flagler Beach, Bunnell and surrounding areas. The practice was built by Dr. Cathy Sheffield in January 2011.  Dr. Sheffield is the sole veterinarian at Palm Coast Pet Clinic and her friendly staff are here to serve you and your pets.  Dr. Sheffield lives locally and can be available for after hours assistance on an as needed basis with prior arrangement for her established patients.  She is committed to their well being.
Dr. Cathy Sheffield is originally from the great state of Wyoming.  She received her undergraduate degree in Zoology/Physiology in 1992 from the University of Wyoming.  Later she attended Colorado State University College of Veterinary Medicine and Biomedical Sciences where she received her doctorate of veterinary medicine in 1998.  Dr. Sheffield has spent most of her career in private practice, with the last 2 years working at a non-profit spay/neuter/medical clinic. She believes in the value of evidence based medicine.  
The Sheffield family (husband Stan, daughter Amelia) re-located to Palm Coast in March of 2004, just in time for the big hurricane season! The Sheffields belong to a houseful of rescued critters; including dogs, cats and guinnea pigs.  Dr. Sheffield believes in adoption, responsible pet ownership through spay/neuter and preventive care, Trap Neuter Return for feral cats in our community, and lasting, loving relationships with family pets.
Our Mission statement:
At Palm Coast Pet Clinic we are committed to the highest quality veterinary care for our patients and pledge to provide excellence in service to their families.  At all times our patients and their families can expect honesty, integrity, dedication and sensitivity.   We are committed to practicing current, leading edge veterinary medicine and providing referrals to specialists when needed.   We pledge that we will always do our very best.
-Dr. Catherine Sheffield and our amazing staff!
Education: We recognize the importance of continuing education; Dr. Sheffield keeps up to date on current veterinary procedures and medicines through seminars, monthly periodicals and manuals. 
Community Service: We recognize the importance of our youth and education;  Dr. Sheffield is active in her community promoting opportunities to young children in school and participates in the veterinary assistant high school training program. We also volunteer services to our local humane society including free initial exam for newly adopted pets from the humane society, as well as other services.  We are always looking for new opportunities to be a part of our wonderful community.
Patient Arrival Policy
For your protection, and that of others, all dogs must be on a leash and properly controlled while in the waiting area or in the exam rooms.  If you do not have a leash for your pet please feel free to ask for one.
All cats must be presented in an appropriate cat carrier.
Payment Policies 
Palm Coast Pet Clinic does not offer billing or payment plans. Payment is due at the time of service, we accept: VISA, MasterCard, Discover, American Express, Diner's Club, JCB, CareCredit(Financing) Cash and Checks (checks are electronically processed).

If you have a claim form for pet insurance we ask that you fill it out completely before submitting it for a doctor's signature. We are unable to fill out or submit these forms on your behalf, although we will be happy to assist you with any questions you may have.